Hygrochilus parishii
The following article was written for the Orchid Species Bulletin published by the Orchid Species Society, which is based in Brisbane, Queensland in December 1997.
Bear in mind that any cultivation notes refer to the subtropical conditions of Southern Queensland, Australia.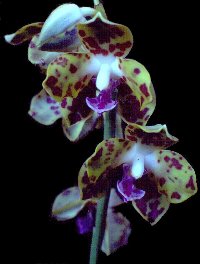 Hygrochilus parishii (Veitch & Rchb.f.) Pfitz. was first discovered by Charles Parish in Burma (Myanmar) in 1862. He sent plants back to the younger Reichenbach who described it in his honour in the Gardeners' Chronicle in 1867 as Vanda parishii. Ernst Pfitzer transferred it to his new genus Hygrochilus in 1897 in Die Naturlichen Pfanzenfamilen on account of the lip being movable while attached to the column.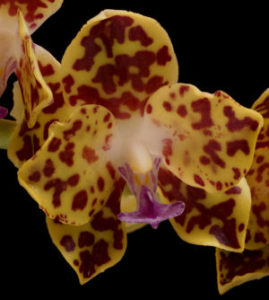 This name was overlooked until Leslie Garay resurrected it in 1974 in the Botanical Museum Leaflets of Harvard University. It is often grown under the synonym of Vandopsis parishii (Rchb.f.) Schltr., however in Vandopsis the lip is firmly, unmovably attached. Other distinguishing features separating the two genera are the distinct arcuate column and distinctively shaped pollinia found in Hygrochilus.
Hy. parishii is widespread being found in deciduous forest up to 1,300 m elevation from north-east India, Myanmar, Thailand, southern China, Laos and Vietnam.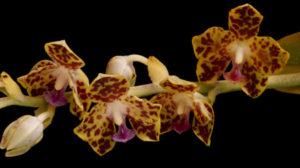 It is a large epiphyte with a short stem that is up to 20 cm long, bearing elliptic-oblong leaves that are 11-23 cm long and 2.5-7.5 cm wide in two ranks. Inflorescences that are longer than the leaves bear 1-6 fleshy flowers that are 3.5-5 cm across. The typical flowers of Hy. parishii have yellow to yellow-green sepals and petals that are whitish towards the base, and are densely blotched red-brown. The lip is purple with a paler base and margins. Its long lived flowers are produced in spring.
Perhaps more common in cultivation is the var. marriottianus (Rchb.f.) Pradhan, which is the same as the typical form except that it has solid reddish-brown to purple sepals and petals that are whitish towards the base. This variety was first published by Heinrich Gustav Reichenbach in the Gardeners' Chronicle in 1880 as Vanda parishii var. marriottiana. Udai Pradhan transferred it to Hygrochilus in the Indian Orchid Journal in 1987.