Hadrolaelia jongheana
The following article was written for the Orchid Species Bulletin published by the Orchid Species Society, which is based in Brisbane, Queensland in October 1999 (modified June 2003).
Bear in mind that any cultivation notes refer to the subtropical conditions of Southern Queensland, Australia.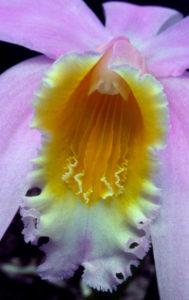 Hadrolaelia jongheana (Rchb.f.) Chiron & V.P.Castro was first described by Heinrich Gustav Reichenbach as Laelia jongheana in Flora in 1872. Some plants were collected in Brazil prior to 1856 for Mr. J. de Jonghe of Brussels, and the species was named in his honour.
Recent DNA analysis has shown that the Mexican and Brazilian species of Laelia are quite different. Since the type species for Laelia is L. speciosa (La Llave & Lex.) Schltr. from Central America, the Brazilian species of Laelia need to be transferred to another genus. Guy Chiron and Vitorino P. Castro Neto transferred L. jongheana, and some of the other Brazilian species that were formerly in Laelia, to Hadrolaelia (Schltr.) Chiron & V.P.Castro in Richardiana in January 2002.
Hdl. jongheana is endemic to Minas Gerais State, Brazil. It grows between 1,300-1,600 m altitude, close to the summit of the few mountain ranges in central Minas Gerais.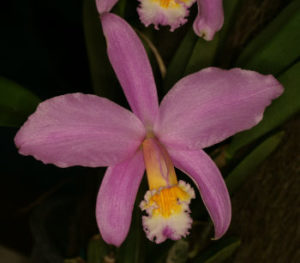 An epiphytic plant, Hdl. jongheana has clustered ovoid to ellipsoid pseudobulbs that are 3-5.5 cm long and 1.5 cm diameter. The pseudobulbs become wrinkled with age and are covered by a white sheath. At the apex is a single erect leaf that is shallowly v-shaped in cross-section. The leathery, oblong-elliptic leaf is 7.5-12 cm long and 3-4 cm wide with an obtuse or emarginate tip.
Inflorescences that are 4-10 cm long are produced from the apex of the newly developing growth in spring. Hdl. jongheana bears one, or rarely two, flat flowers that are 10-12.5 cm across on each inflorescence. A few cultivars seem to consistently carry two flowers on each stem. The flowers have pale lilac to rose-purple sepals and petals. Its lip is white with a rich orange-yellow disc and the margins and side lobes are pink. Rarely are the flowers pure white with an orange-yellow disc. The disc has 7 parallel, wavy ridges that extend onto the base of the frilled mid-lobe.