Brasilidium crispum
The following article was written for the Orchid Species Bulletin published by the Orchid Species Society, which is based in Brisbane, Queensland in September 2009.
Bear in mind that any cultivation notes refer to the subtropical conditions of Southern Queensland, Australia.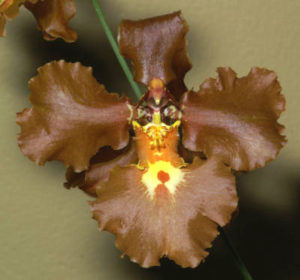 Brasilidium crispum (Lodd. ex Lindl.) Campacci was introduced to Europe from the Organ Mountains of Brazil by Conrad Loddiges. John Lindley first described this species as Oncidium crispum Lodd. ex Lindl. in the Botanical Cabinet in 1832.
During recent years, DNA sequence data analysis has been used by various authors to redefine orchid genera. Marcos Campacci has used both phylogenetic and morphological studies and has transferred Oncidium crispum to Brasilidium in Coletânea de Orquídeas Brasileiras in February 2006.
Brasilidium comprises ten species with Bsd. crispum (Lodd. ex Lindl.) Campacci [Onc. crispum Lodd. ex Lindl.] as the type. Species included in this new genus were previously included in Oncidium section Crispa Rchb.f ex Pfitz. The generic name comes from Brasil and the ending from Oncidium as it is a Brazilian genus that has been separated from Oncidium.
Bsd. crispum has large, ovoid pseudobulbs that are strongly compressed and grooved with age and are 7-12.5 cm long and 3-5.5 cm in diameter. The pseudobulbs are spaced along a rhizome at 2-7 cm intervals and are usually a dark red-brown particularly when grown in bright light. At the apex, the pseudobulbs bear 2 (rarely 3) oblong-lanceolate leaves that are 15-20 cm long and 3-5 cm across, which are olive to brownish green depending upon the light.
A long paniculate inflorescence that is 70-110 cm is produced from the base of the recently matured pseudobulb. Erect to arching, the panicle bears many (up to 50-60) large showy flowers that are 5-7.5 cm across. The flowers of Bsd. crispum are amongst the largest of the genus Brasilidium. Much crisped and undulated, the flowers have coppery-red to olive-brown segments. The lip is yellow at the base and around the white callus. Jack Fowlie (1976) reports that the flowers have a faint, musty odour likened to that of cockroaches.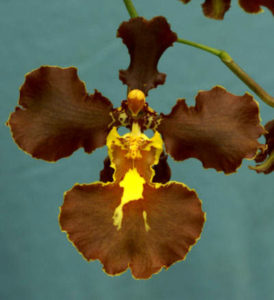 Shown at the November 1997 meeting was a plant labelled as Onc. crispum var. lionetianum Cogn. Jack Fowlie says that var. lionetianum represents the typical Onc. crispum. I however do recall that one of the plants shown had darker chocolate brown flowers with lighter brown blotching to the petals, rather than the usual evenly coloured olive to chestnut-brown segments.
Bsd. crispum occurs on both sides of the Organ Mountains of Brazil from 800-1250 m elevation. It is a mid- to late spring flowering species and is closely related to the autumn flowering Bsd. praetextum (Rchb.f.) Campacci. Bsd. praetextum is distinguished by its later flowering season, smaller flowers with more rounded petals, and a different callus on the lip. The flowers have a sweet fragrance which has been reported to be similar to lilacs.
Environmental conditions in the Organ Mountains dictate that during spring there are frequent rains and cloudy mists when the plants grow rapidly and soon flower. Summer temperatures can reach 30oC in the shade on hot sunny days with humidity usually around 85%. During winter when skies are clear there is less moisture in the air but never below 65%. Temperatures can go down to 3oC on cold clear winter nights. Light is also brighter due to the deciduous nature of some of the trees.
Jack Fowlie (1976) says that Brasilidiums [Oncidiums of the section Crispa] should be cultivated on very long cork oak bark, or better cork oak limbs, ideally at least 1.5 m long. Mounts can be hung vertically so that the extensive root system can grow up and down along the fissures in the bark ensuring good growth and flowering. Grown in this way plants can be watered or misted and also fed regularly during the warmer months when in active growth. During winter cooler, brighter and drier conditions can be provided in keeping with its natural environment. In the Brisbane area plants grow well when provided with 50-70% shading.
Don Franzen (1997) prefers to grow species of this section on tree fern slabs, and he certainly grows and flowers them exceptionally well. Readers are referred to Don's article on his cultural methods in the Orchid Species Society's publication Twenty-five Years of Orchid Species.