Dryadella hirtzii
The following article was written for the Orchid Species Bulletin published by the Orchid Species Society, which is based in Brisbane, Queensland in January 2005.
Bear in mind that any cultivation notes refer to the subtropical conditions of Southern Queensland, Australia.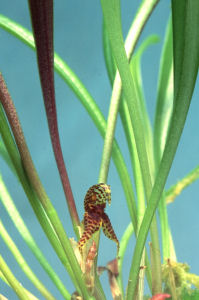 Dryadella hirtzii Luer was described by Carlyle Luer in Phytologia in 1980. The specific epithet honours Alexander Hirtz, discoverer of the species.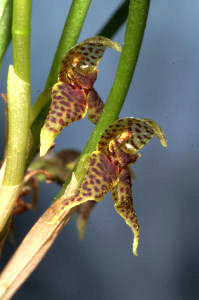 Dda. hirtzii is an epiphytic plant with clustered short ramicauls (pleurothallid stems) that are 1-1.5 cm long. The apex of each ramicaul bears a single linear upright leaf that is 7.5-9 cm long and 6-7 mm broad. The fleshy glossy green leaves are narrowed or stalked towards the base and may be flushed red-purple when young. Short single-flowered inflorescences that are about 5 mm long are produced from the base of the leaf. Lasting for about 3 weeks, the small flowers are about 7 mm across and 12 mm long. The flowers have translucent white sepals and petals that are spotted and barred with dark brown to red-brown and a red-brown lip.
Endemic to Ecuador, Dda. hirtzii is a cool cloud forest species that requires moist humid conditions with good air circulation at all times. Grow it in a small container with a well-drained medium. Water it regularly so that the roots remain evenly moist. Good ventilation and high humidity is very important during our hot summers.